Tulsi Tea Benefits..The Amazing Antiaging Stress Reliever!
Tulsi Tea Benefits
I have to tell you about my great discovery...Why do I love my tulsi tea? I can't stop drinking the stuff. Not only does it taste great, really sweet and spicy, and it is also very healthy too. In what way?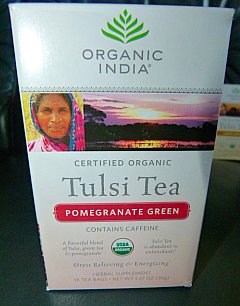 Well, to start with it Tulsi tea (an ayurvedic remedy)is very high in antioxidants.

Also known as Holy Basil Herb, it originates from India, where the tulsi is revered as a sacred plant and has been recognised for its health promoting properties and healing powers for many thousands of years and is lovingly called The Queen of Herbs.

Who needs a Pyscotherapist..save your money, buy tea instead?

My Tulsi tea is a great reliever of stress too. The reason for this is that it is an adaptogen. For the uninitiated, adaptogens are basically herbs, believed to increase the ability of the body to adapt to changing situations related to stress, and then restoring disturbed psychological and physiological functions to a normal healthy state.

I always drink a cup first thing in the morning as an alternative to coffee, to face the stresses of the day and then midday and just before bedtime. I drink the tea, as is, in other words no milk or sweeteners added, however it can be enjoyed any way really.

What really turned me on to this tea is the fact that it has the ability to boost your body's resistance to stress. Let's face it, every day we are bombarded with stress in one way or another, and it can really wear you down, not only that, it really isn't good for your body to be constantly under stress. So Tulsi tea is my saviour and always comes to the rescue!

In fact Holy Basil or Tulsi Tea is reckoned to be better at reducing stress that ginseng. So much so that the people who grow it and use it, swear by it, claiming it really does improve their health and well-being. I certainly beleieve it helps me too.

The wise old sages many years ago claim that the tulsi leaf to be a great healer balm for the body, spirit and mind. Fast forward to modern healing practitioners, and they are saying the same things about holy basil herb too.

What are the main health benefits of Tulsi Tea/

According to modern time scientific research here are the following health benefirs of Holy Basil or Tulsi..






What makes Tulsi-tea so powerful?
The chemical composition of the tea is very complex and consists of many nutrients along with other biologically active compounds. As I mentioned above, it is rich in antioxidants, which fight free radicals and help to prevent aging and many other diseases including cancer. To understand more about antioxidants and their effects check out these links....


The Health Benefits of Antioxidants

Can We Control Free Radicals?




As you will notice from the pictures here that I have most flavors, but my real favorite has got to be the Pomegranate Green. It has to be enjoyed in a very quiet place and every sip has to be savoured. It's the only way to drink it!
So, let's ditch all these so-called amazing 'snake-oil' remedies that claim to make you feel and look younger in just 24 hours, or lose pounds of weight in just a few days with absolutely no exercise, you know what I mean, those flashy health and longevity promises promoted on the TV, Magazines or the internet..forget them. Get yourself some Tulsi Tea benefits instead..it will 'do the job' and you won't regret it.
Hey, I have a lot of respect for Dr. Mercola, he really is the health and wellness guru, even he is raving about the Tulsi Tea benefits.


---
Related Pages to Tulsi Tea Benefits at This Website

Cancer Fighting Green Tea

Yerba Mate Tea

Pau Darco Tea

Wu Long or Oolong Tea Health Benefits



Back From Tulsi Tea Benefits to Homepage