A List of The Best Antioxidant Vitamins and Minerals
What are the best antioxidant vitamins?


First what are antioxidants? In a nutshell they are a group of compounds whose purpose, or role is to fight, protect and guard our bodies against the formation of free radical damage, thus eliminating them.




Free radicals are unstable, incomplete molecules, they are necessary though, however it's when they start over-producing that problems start.

These molecules cause oxidation in our bodies, which basically means we 'rust' up. This ultimately causes premature aging, diseases such as cancer, Alzheimers etc and many other health problems.

Antioxidants in effect, donate the missing molecule to the free radical, and everyone is happy!

A bit of a basic explanation, but I think you get the idea! If you want more detailed info, click around this site..all the answers are there.

Of course we need a good supply of antioxidants to counter balance these bad free radicals. The most common and effective antioxidant vitamins to complete the task will be discussed.


The Best Antioxidant Vitamins List




Each vitamin will have a brief description, however click on the links for each one featured and you will be taken to a page with a lot more interesting info.

Let's start with probably the best known, or most familiar of the best antioxidant vitamins...

Vitamin C Possibly the most widely supplemented nutrient. Also known as ascorbic acid this vitamin is water-soluble and, unlike most mammals, humans cannot make (or manufacture) for themselves. There is debate as to how much we really need, some say a lot, others say not so much!

Deficiency of vitamin C is very rare these days, as it is found in may foods and other sources. Nevertheless it is a great free radical fighter and a daily recommended intake is about 300mg.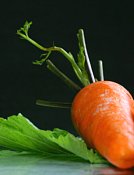 Vitamin A
Not actually a vitamin as such. It's just a generic term covering several different but related compounds. These are fat-soluble vitamins which are also collectively known as retinoids.
We can manufacture our own vitamin A from nutrients called carotenoids.
You can find these in fruits and vegetables that are coloured (mainly) red, orange and yellow. The most common, or best known of these are carrots. High and potent in antioxidants, it is great for healthy-looking skin.

Vitamin E Another generic term for a group of fat-soluble vitamins. Because of this it can be stored in the body where it's found in the blood, liver, skin, brain and sex organs of male and female alike.
Vitamin C works well with vitamin E as it helps to recycle around the body, thus making it more effective. Smoe good food sources are avacados, almonds and wheat germ.

Vitamin D Known as the sunshine vitamin, it is fat-soluble and available in two ways.
We get it from foods such as oily fish, soya products and shitake mushrooms, or we can form our own through sunlight. In fact sunshine is vital for vitamin D synthesis in the skin. Low exposure to sunlight can cause a big deficiency of this vitamin.

Vitamin B17 This vitamin is being hailed as the ultimate cure for cancer. Found in unusual foods such as apple pips, apricot kernels, bitter almonds and some berries. It is estimated that one out of three persons will eventually die from some form of cancer, so vitamin B17 really gets our attention.


The Best Source For Antioxidant Vitamins and Superfoods.


For all your best antioxidant vitamins, minerals and natural health products you won't find a better place than iherb.

Why? They are simply the best for service, choice of products, and of course..price! I buy nearly all of my health products at iHerb. Here are some great reasons to buy safely...



Brilliant Prices...30% to 60% off most name-brand products
Selection...choose from over 50 green tea products
Same-Day Shipping...$4 Flat Rate, FREE on orders over $40
International Shipping...as low as $4 on orders up to $80
Live Customer-Care Service...on the phone or live chat
Extra Discounts...extra 5% off for orders over $60
Cool Rewards Program...earn store credit for referring your friends and family




Click this exclusive iHerb discount voucher below and claim $5.00 instantly off your first-time order. Or quote ZOY985. when you check-out.




After extensive research for a quality place to buy all my health products, iHerb ticked all the right boxes in every respect, so I now buy just about all of my stuff from iHerb and there is no way that I would recommend anything to you unless I have tried it first-hand myself. Visit my iHerb page to see why it is the only place to shop for the best health and nutritional products online.



Related reading to best antioxidant vitamins at this website

Antioxidant Supplements







Back From Best Antioxidant Vitamins to Homepage