Health Benefit of Kale...A Powerful Antioxidant Packed With Vitamins And Much More
The Health Benefit of Kale
Yes, that curly green stuff you push to one side on your dinner plate and don't bother to eat it, at least my kids used to do it, much to my annoyance!
Ok, I agree it can taste a bit boring, but for your health's sake, you need to be eating plenty of it. It really is so good for you.

The health benefit of kale is endless. It is an incredibly healthy vegetable. Many are claiming it has reached super-food status, and I think that they are right. So just how good is the health benefit of kale?

Ok, where do I start?

Ok, kale is an excellent source of...
But where the health benefit of kale gets an A plus rating is it's
vitamin A content.
It is an
excellent source of beta carotene.
Just one portion of kale is only 36 calories but it provides a massive 192% of your daily vitamin A needs.

Australian research has found that people who eat beta-carotene rich foods are less likely to develop skin cancer. That's not the 'green light' to go running out into the sun, burn to a frazzle, and relying on beta-carotene protection to save you, it doesn't work like that!


Health Benefit of Kale..Helping Respiratory Problems
If you want protection against lung diseases, and are exposed to a lot of smoke with the risk of emphysema, then you need to be consuming vitamin A rich foods...kale to the rescue, as mentioned above, it is very high in vitamin A.

But it doesn't stop there, kale is also an excellent source of Vitamin C too. A daily portion of the green stuff provides a whopping 89% of your daily vitamin C requirement.

Vitamin C is associated with a reduced risk of colon cancer. In addition it is also connected with reducing free radicals that trigger inflammatory diseases and is therefore associated with the reduction of severe problems such as rheumatoid arthritis, osteoarthritis and asthma.

One portion of kale will cater for 10.5% of your daily fibre requirements.
Our bodies definitely need plenty of fiber, as it helps to reduce cholesterol and prevents arteries from becoming clogged up. It also aids in keeping blood sugars under control, so great for diabetics.
Fiber can also give relief to people with irritable bowel syndrome as it aids constipation and diarrhea. Also fibre helps provide protection against colon cancer, as mentioned above.


Allergic to Cow's Milk? Kale Will Provide Calcium
If you need calcium but are allergic or intollerant to dairy products then kale could be the answer as is a great source of calcium. It's not as high in calcium as cow's milk, but it does not have the saturated fat associated with cow's dairy milk.....so it is excellent for kids helping with their bone development and of course, adults too.

Kale is also famous for its carotenoids, especially zeaxanthin and lutein, as these can be a great protector against cataracts.

Lutein is a very powerful antioxidant, it has a yellow pigment (the yellow is covered up by chlorophyll in green leaves) with newly discovered powers to fight disease.

Most adults eat about 1 milligram of lutein a day. Experts recommend at least 4-6mg of that powerful disease fighter.


The Health Benefit of Kale....Anything Else?
I haven't quite finished yet, not yet!
Kale contains sulphorane...which only becomes apparent when cruciferous veggies such as kale, cabbage and broccoli are chewed or chopped (that's what gives the sulphorous cabbagy taste).
But it's what sulphorane does that's the significant thing. It encourages the liver to produce enzymes that detoxify cancer causing chemicals, especially those connected to chemically-induced breast cancer and colon cancer.
Studies have also shown that sulphorane may protect against genetic cancers too.(i.e cancer caused by a genetic predisposition).

Kale is a member of the brassica family along with cauliflower, collard greens and broccoli. Nice family the brassicas, they are known to be anti-cancerous and they contain glucosinolates.
Apparently there are over 100 different glucosinolates, of which about 15 are present in the brassica family.....and nowhere else!

Now..are you getting to like kale a little bit more now? The health benefit of kale...it really is one of health's superstars.
Now, I realise there are many of you that are veggie challenged, in other words, you really don't like to eat vegetables, including kale etc...So a great alternative way to ensure that you are eating 'green foods' and getting plenty of high nutrition from plant sources to help fight diseases and slow down aging is to take everything in a powdered form.
It is easy and simple as the powder can be easily mixed in a juice form, or, better still, blend into your favorite smoothie.


Where Is the Best Place to Buy Superfoods?
For all your superfoods and natural health products there is no better place than iHerb. Why? They are simply the best for service, choice of products, and of course..the price! I buy nearly all of my health products at iHerb. Here are some great reasons to buy safely...
Brilliant Prices...30% to 60% off most name-brand products
Selection...choose from over 50 green tea products
Same-Day Shipping...$4 Flat Rate, FREE on orders over $40
International Shipping...as low as $4 on orders up to $80
Live Customer-Care Service...on the phone or live chat
Extra Discounts...extra 5% off for orders over $60
Cool Rewards Program...earn store credit for referring your friends and family




My best recommendation is....
Wakunaga - Kyolic, Kyo Green Harvest Blend Powdered Drink Mix, 6 oz, (172.5 g) from iHerb. It is a nutritious and tasty green powdered drink mix. It consists of 44 nutrient-rich ingredients, and in my opinion is an excellent quick and easy way to get maximum nutrition from one convenient whole food source for optimal health. It includes organic kale too. I have been using this product for a while now. I mix it with my morning juice.


Click on the graphic below to go there now and claim $5.00 instantly off your first-time order. Or quote ZOY985. when you check-out.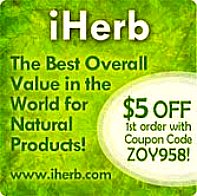 If you are looking to shop for additional healthy and nutritional products, visit my Amazon store.

Related reading to the health benefit of kale on this website..


The Power of Broccoli

Spirulina

Spinach
Do You Have a Health Story You Want To Share?
Do you have an interesting health story that you would like to share? Have you battled through illness against all odds with the help of healing foods or any other method? We would love to hear all about it.